The preparation for our big day in San Francisco was both thrilling and nerve-wrecking.
From the booking of tickets, researching about the actual procedure of getting married, booking of flights and accommodation to make sure that the location and timing would work for the ceremony and other follow-ups that might be required – it all really took quite some planning. Now looking back, I am really glad that it all turned out well!
We picked San Francisco for obvious reasons; it is one of THE capital for the LGBT community, it is a gorgeous gorgeous city, and the City Hall (which was where we eventually got married in) is beyond beautiful and breathtaking. I fell in love with San Francisco instantly.
I received a few queries with regards to getting married overseas. Well, I guess I am not qualified to advise about the procedure for Singaporeans to get married overseas but I'd be more than happy to share my experiences getting hitched in San Francisco City Hall!
It all started with making appointments for registration of marriage licence and the ceremony itself (do note that this is two separate appointments for two different things). One tricky thing about this part is the appointments cannot be made more than 3 months in advance. Thus, we had to leave the booking of air tickets and accommodation after we secured these two appointments (yes we are quite kiasu when it comes to the booking of air tickets and accommodation).
We did not want to return to the City Hall twice to get both done on separate days so we went ahead and book the two slots with just a 1.5 hour break in-between. This arrangement turned out to be brilliant because we actually had time to get some photos taken in between and 1.5 hours was great! I'd elaborate more towards the back of this entry. :p
It was my longest flight to date – seriously the jet lag is not funny at all.
We picked a nice little apartment near Castro from Roomorama which is spacious and bright (for makeup during the big day! Haha!) and somewhat near City Hall. We thought it's only fair that we stayed at a pretty apartment to put us in the right mood. Heh! Oh! The makeup artists in San Francisco actually offer services to do your makeup and hair at your apartments but the quotes I got was about 800 USD per person so we decided to just do it on our own since my makeup skills was still reasonably ok. Haha! We arrange the date of the registration and ceremony to be on the fifth day after we reached San Francisco so that we have sufficient time to get over the jet lag and to get a better idea of how to get around the city.
The jet lag was disgusting. For the first two days, we woke up at 3am and was wide awake after. And 8pm is the standard time when we're freaking sleepy. So giving yourself some time to recover from the jet lag is a great idea.
Castro is a really cool area to live in with lots of nice cafes and nice people around. We saw a naked man walking around the area in broad daylight one day and nobody cared. Well ok, I don't know whether that equates to nice people but you get the idea – people are really chill and open minded there.
And I just dig seeing rainbow flags all around. :p
We were pretty hands-on for the whole thang – from manicures to makeup and hair to flowers. We did it all on our own. That's the fun part actually, planning with no stress and actually getting to enjoy the fun of planning for your own wedding at a comfortable pace. Flower shopping was really fun for me, who doesn't like a pretty bouquet! We Googled for florists in San Francisco and found out that there are actually so many near our apartment. Some of them even do deliveries to your apartment or hotel after you chose what you want from their websites. But we didn't want to leave the bouquet to chance and sometimes providing a colour theme might go way wrong since beauty is so subjective, so we decided to personally pick the flowers for my hand bouquet!
After a couple of phone calls, we made our way down to Church Street Flowers. The florists were knowledgeable and very helpful and friendly.
I always wanted to have succulents in my hand bouquet and tadah!
The florists were really nice to even give us a little vase complimentary to keep the flowers fresh! We had our lunch at the prettiest table in Tartine Bakery because we brought our own flowers for the table. :p
Throughout the day, we received compliments from random passerby telling us how beautiful those flowers were and it really made us smile. As the day pass, we just cannot help but get more and more excited about what's to come. 🙂
A wanted a little boutonniere for her suit (which by the way, was done by the one and only fabulous Dylan and Son) but we did not manage to get a single florist in San Francisco who sells boutonnieres. It was also tricky getting a boutonniere from any other florists because the flowers in the boutonniere and my hand bouquet had to kinda go with the same theme.
So, we made our own!
After a quick visit to the local crafts store and some creativity, wits and Pinterest-ing, this is what we did:
We also managed to find some numbered push pins which A cleverly suggested that we could use those to secure the ribbons and to put down the date of our big day!
I have to admit that my heart bled a little when we had to trim the flowers off my bouquet. Luckily the bouquet still looks untouched after the little "operation". :p
Before we left for the trip, our co-workers at The Tiramisu Hero threw us a little Hen's Night party and gave us a little photo book and props (you guys are the sweetest!!) and we packed them into our luggage and brought them along for our pre-wedding apartment toilet shoot with a phone camera! Hahahahaha!
We're so silly, I know.
I just love my hand bouquet.
The rest of the night was spent painting nails, doing masks, getting rid of unwanted facial and underarms hair and all the unglam things. :p I remember it took me a long time to fall asleep that night.
– – –
Our big day.
It started with us waking up bright and early to prep ourselves for the ceremony we've both been waiting for for so long. Our appointments for the marriage registration and civil ceremony was 12pm and 1.30pm respectively. After some research, we found out that the best time to get married at San Francisco City Hall is early morning and on a weekday. Strictly speaking, there is no "best time" to be married because it's such a joyous occasion and people should be getting married at whatever time they want! But, choosing to have your ceremony early in the morning during the weekdays would help to make sure that there are less stray strangers in your photos because the City Hall is less crowded during those times.
We thought it would be embarrassing for us to walk out into the streets in our suits, veil and hand bouquet in broad daylight and try to get a taxi, but surprisingly, no one bothered. Hahaha! *think too much* I guess San Francisco is pretty used to tourists from all over the world jetting into their city just to be married. The Uber ride to City Hall took us less than 15 mins!
For your ceremony, you can choose for it to be a private one or a public one. We went with the latter because the public ceremony only needed one witness to be present. And we were thinking since we're no celebrities, there is really no need for it to be private and "unlisted". As for our witness, we managed to get our photographer to be on board! Emily was really cool and accordingly to her, she has been the witness to many, many unions in San Francisco City Hall. She is very familiar with the procedures and the location itself, so it was really a blessing to have her with us on this.
We booked Emily for a 3-hour shoot, thinking it would be sufficient for her to photograph us before and during the ceremony, and then to a second location for a couple more shots. But truth is, Emily was really (really!) nice and wasn't calculative about the time part at all. You can check out her website here to see her portfolio and to see her charges for various packages.
Before I start on the registration part proper, here are some pictures of the beautiful City Hall of San Francisco!
We arranged to meet Emily at the County Clerk office because that's where it all begins! With our passports at our appointment time, we filled up some forms and then were made to wait outside another office for more forms filling. To be honest, we would be quite lost if Emily wasn't with us, so if you're not looking at engaging anyone while you're there, look at this pictures and make sure you end up at the same place during your registration day! :p
The second queue was for more form-filling and at this point they will double-check your particulars and also a little swear-in procedure to ensure that all information you've provided are truthful and accurate, that you are there on your own free will, etc.
They also asked if we wanted to have a name change after the procedure is done. Both Chang-Koh and Koh-Chang sounded really awkward to us; so it wasn't hard for us to decide to keep our original last names. Hahaha!
Then we had an hour break before the 1.30pm civil ceremony so that gave us some time for a short coffee break (the coffee in their cafeteria was quite bad by the way), hit the washroom to freshen up and do a little touch-up before the shoot around City Hall itself.
Emily was very familiar with the people working at the offices, constantly saying her Hellos and it really made us feel comfortable. I remember one of the ladies also commented that our bright red passports are "very pretty and uplifting". I think I also told her that I like their cool-looking black ones. :p
Emily knows all the nice spots for a good photo in City Hall.
Our friends made us these little pins with something new, something old, something borrowed, something blue in them and we made sure we had their blessings on us the whole time. We told Emily about it and she also think that we HAVE to photograph these little trinkets!
We headed back to the office about 15 mins prior to our civil ceremony appointment time to get settled in.
A and I were getting real excited at this point of time as we meet more couples hanging around the office area waiting to get wed. It is really a place filled with joy! We saw all kinds of couples there, two-brides, two-grooms, and of course many beautiful heterosexual couples. Some came with a big group of family and friends, but most of them had just a small entourage of 4-6 people. One couple, in particular, left a deep impression because both the bride and the groom looked so casually dressed; one in an office-looking dress and the other wearing a windbreaker. It just makes me so excited and happy for them, knowing that what they wore or who they had with them (they were all by themselves by the way) didn't matter at all as long as the both of them are there because they are so in love with each other!
This was also the first time we got to meet our marriage officiant, Mary. She's the sweetest lady ever. Over here, Mary made sure again that we were both there at our own free will and she double-checked our names pronunciation and spelling etc. We were also asked to print our names on a temporary Marriage Certificate which is basically just a souvenir for us before we collect our actual official Marriage Certificate in 2 weeks' time.
According to Emily, there are different areas in San Francisco City Hall where the ceremony can be done. The most photogenic spot being the top of the main stairwell because of the good lighting and great composition for the photos with the entire City Hall in the background. But on the day when we were having our ceremony done, they were trying to put up the Christmas tree so that spot was not available. The officiant would be the one choosing the spots. And if it is a very busy day at the City Hall, the procedures can sometimes be done in a room, which according to Emily looks most depressing (suddenly thought of our ROM :x) and the lighting is bad too because everything looks yellow on photos. Luckily of us, we got a little spot at the top of the stairwell but on the side to avoid the Christmas tree people.
Each time the officiant leaves the office, he/she will take along with him/her three couples. Yes, you queue up to get married and you get to see the rest get married. Hahaha! It was pretty fun. Good thing for us though, was that we were the third in our group so the other two couples and their entourage had already left the area by the time it was our turn. We were all secretly thrilled. :p
"The contract of marriage is most solemn and is not to be entered into lightly, but thoughtfully and seriously with a deep realisation of its obligations and responsibilities. Please remember that love, loyalty and understanding are the foundations of a happy and enduring home. No other human ties are more tender and no other vows more important than those you are about to pledge."
I promise to love and comfort you, honour and keep you in sickness and in health, for richer and for poorer, for better or for worse and be faithful to you as long as we both shall live.

I give you this ring in token and pledge of my constant faith and abiding love.
With this ring, I thee wed.
I remember before our ceremony started, Emily told us that our officiant Mary has the record of "forgetting" to ask the couples to kiss. And Emily went like, "If Mary forgets to ask you two to kiss again, JUST KISS!"
Hahahahaha!
How can anybody EVER bring themselves to blame Mary for forgetting to ask the couple to kiss! Look at her!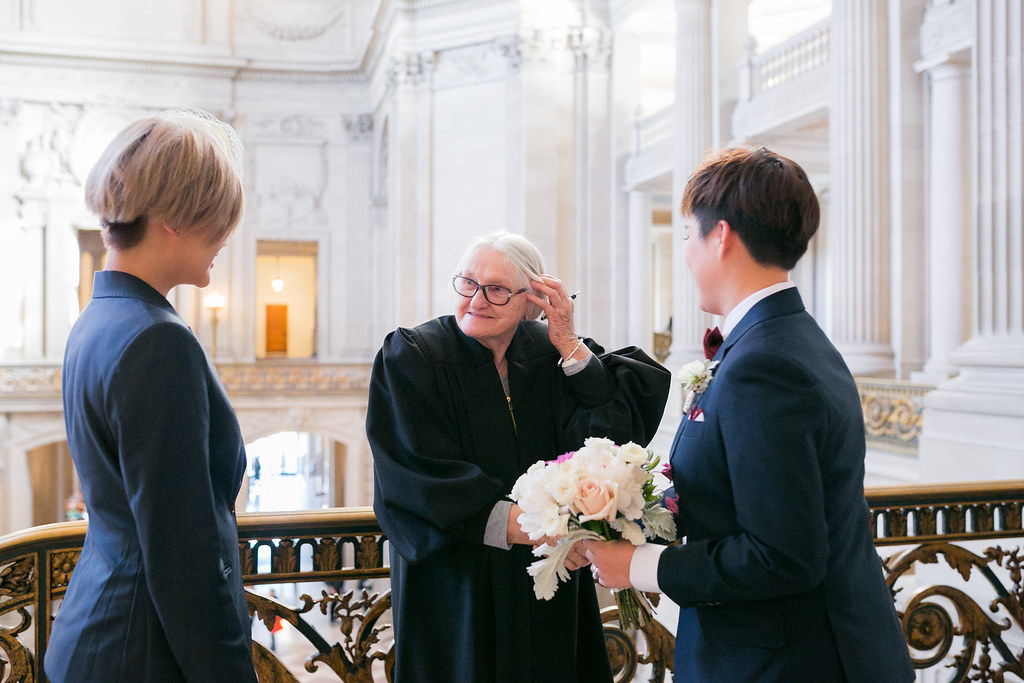 I remember an open-top tour bus drove by the City Hall that day. The driver honked his horn a couple of times and everyone on the top deck shouted "CONGRATULATIONS!"
Emily took us in her ride to Palace of Fine Arts for a few more shots before we called it a day.
It took us a lot of guts to climb that high, and I think we weren't even supposed to be climbing around in the first place. Hahahaha! Super unglamorous behind-the-scenes:
And, that was how we got married in San Francisco!
I will always love you, A.
– – –
P.S. We went back to the City Hall about 2 weeks later to collect our official certificate. Collection of Marriage Certificates is done at Room 168 (Office of Assessor-Recorder) on Level 1 in the City Hall. We made arrangements to get married in San Francisco when we first got there, travel around US and have our honeymoon before we fly back to San Francisco to collect the certificate and fly back home.
The City Hall also provides the option to have the certificate mailed to whichever country you're from. But we also understand from friends who got married at San Francisco City Hall, that this option is a little bit more of a hassle because that involves making trips to the US Embassy in Singapore and some hidden costs here and there.
The Christmas tree was up during our second visit and it was really beautiful! It was decorated with paper cranes that had hopes and wishes written on them.
We also found out by chance that Frida Kahlo and Marilyn Monroe (Jees I love her!) also got married in San Francisco City Hall. The Marriage Certificate looks like this one here that belongs to Marilyn Monroe:
May all love be equal.