If you can vaguely see the famous green MILO logo at the back,
then you would have probably guessed that
Nescafe Dolce Gusto has just launched their new MILO capsules for Dolce Gusto!
M-I-L-O!
Don't we all have a little MILO-lover inside of us?
The launch event was in the form of a pop-up store at TANGS in Vivocity.
There were more than just Mocha and Cappuccinos on the drinks menu,
and I shall leave it for you to explore on your own. I requested for Orange Mocha, sounds interesting right?
It is made with orange syrups and Dolce Gusto's Mocha capsule.
I never thought I could actually have more than just what the capsules offer.
Imagine with a Latte capsule, I could actually spin out Vanilla Latte,
Caramel Latte and more at the comfort of my own home! Splendid!
The presentation was really pretty too! And the barista look like Asian John Lennon
with his hippie hair and round-framed glasses. :p
Dolce Gusto also made use of the event to launch their latest award-winning machine – the Mini Me.
I know the image you have in your head is the Mini Me from Austin Powers
but trust me this is much cuter than him.
It comes in a stylish grey or a sleek white color and despite its smaller size,
the capacity of the water container is actually as big as the regular Genio machine.
Sounds like a great idea to put one in the office cubicle if you're an avid coffee drinker.
Small but definitely mighty!
You might be able to get a better picture of its size in this photo: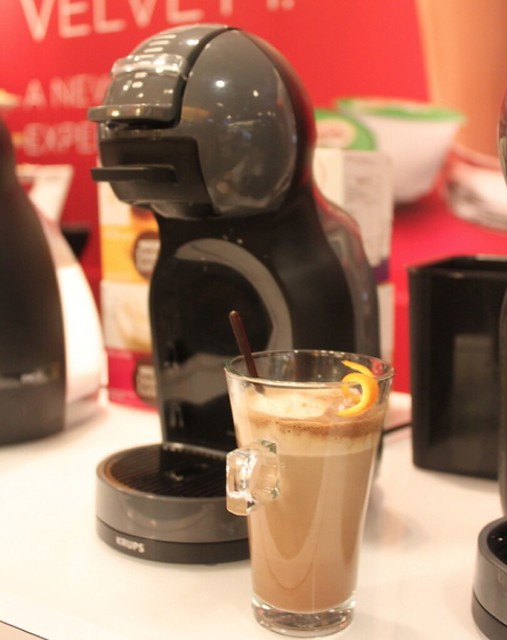 And so, back to the awesome newly-launch MILO capsule!
I feel honoured to be one of the first few in Singapore to "get my lips" on it and
I'm impressed by how "gourmet" it tastes.
If you like your MILO smooth, creamy and velvety with a nice froth, then you would go to heaven and back
when you taste their new MILO capsules.
From a breakfast drink with crackers when I was in Primary School, to now,
being a drink that I would frequently crave for, MILO has always been a part of my life.
I know when it comes to MILO, we all have our preferences –
some like it lighter and some like theirs more concentrated.
From my experience of fiddling with the machine, I can actually get a more "concentrated" MILO taste
by adjusting the water level during the preparation of my Dolce Gusto MILO drink!
*thumbs up*
My favourite part about the new MILO capsule is definitely the frothy finish.
Throughout my 6 months of working on a commercial coffee machine in The Tiramisu Hero Café,
I have learnt that steaming a good froth from milk is no easy feat.
It's just amazing how I can get that same velvety froth with just a press of a button.
Have you had your MILO with a good froth before?
If not, then you better head down to TANGS and Vivocity to try out the MILO capsules.
I guarantee you – you'll be instantly hooked! :p
The pop-up store at TANGS Vivocity is opened from 12pm to 7pm daily until 13th April 2014.
In conjunction with the new launch of the MILO capsules, Dolce Gusto has come up with a fun and creative Instagram contest!
If you think you're "stylo milo" enough, strike your most "stylo" pose with the new Nescafe Dolce Gusto MILO
and 5 lucky winners will get to walk away with S$50 Dolce Gusto goodie bag and
if Lady Luck is smiling at you, you might also be the lucky winner to walk away with
a brand new Dolce Gusto coffee machine!
If you think you're more stylo than me (haha!), post a picture of yourself
striking a "stylo milo" pose on Instagram with #StyloMILO hashtag.
Contest period is from 4th to 25th April 2014 and winners will be announced by 30th April 2014.
You can check them out here for more info!
If you're not stylo yet, drink some MILO and you'll be stylo. Haha!